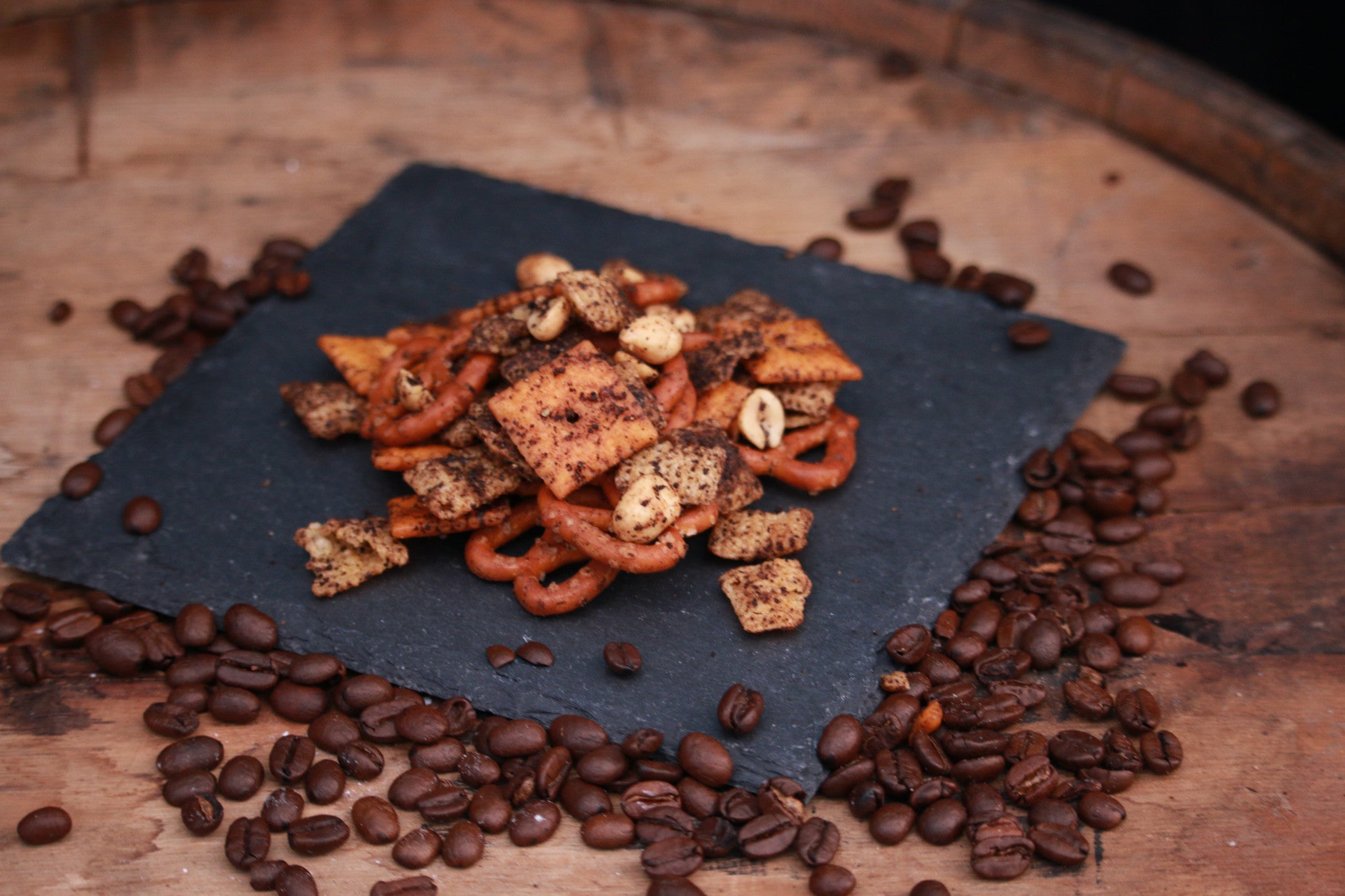 Coffee and Kickoffs: Spiced Snack Mix
No Super Bowl party is complete without a solid snack mix. Everyone is reaching for that bowl between plays while they wait for main course. This snack mix disappeared in a single afternoon during taste testing at the office so we can confidently say that this is a crowd pleaser. The coffee comes through on the finish and lingers in your mouth after the other flavors have subsided, much like the whiskey finish in our barrel aged coffees. Give this snack mix a try - it just might be your new go-to party mix.
CLICK HERE to purchase your bag of Angel's Share & don't forget to use the code 'SBWEEK17' at checkout for 15% off of your purchase! Code valid until 11:59 pm MST Thursday February 2, 2017.
_____________________________________________________________
Ingredients
For The Snack Mix Base
3 cups Corn or rice cereal squares
3 cups Small pretzels
1-2 cups Cheddar crackers
1-2 cups Roasted salted peanuts
For The Spices
½ cup Unsalted butter or olive oil
3 tbsps. Whiskey Barrel Coffee Angel's Share Blend, finely ground
1 tbsp. Sugar
2 tsps. Chili powder
½ tsp. Salt
½ tsp. Ground cumin
¼ tsp. cayenne (optional for some heat, we recommend it though)
Instructions
Preheat the oven to 250 degrees. Line a rimmed baking sheet with foil and set aside.
Combine the snack mix base ingredients in a large bowl and mix together. 
Melt the butter in a small microwavable bowl. Once melted completely, incorporate the spices. 
Pour the butter and spice mixture over the snack mix base and stir until all pieces are coated. 
Transfer the mix onto the lined baking sheet and spread into a single even layer. 
Bake for 25 minutes, stirring occasionally. 
_____________________________________________________________
#WhiskeyBarrelCoffee #WBCRecipe #BarrelAgedCoffee