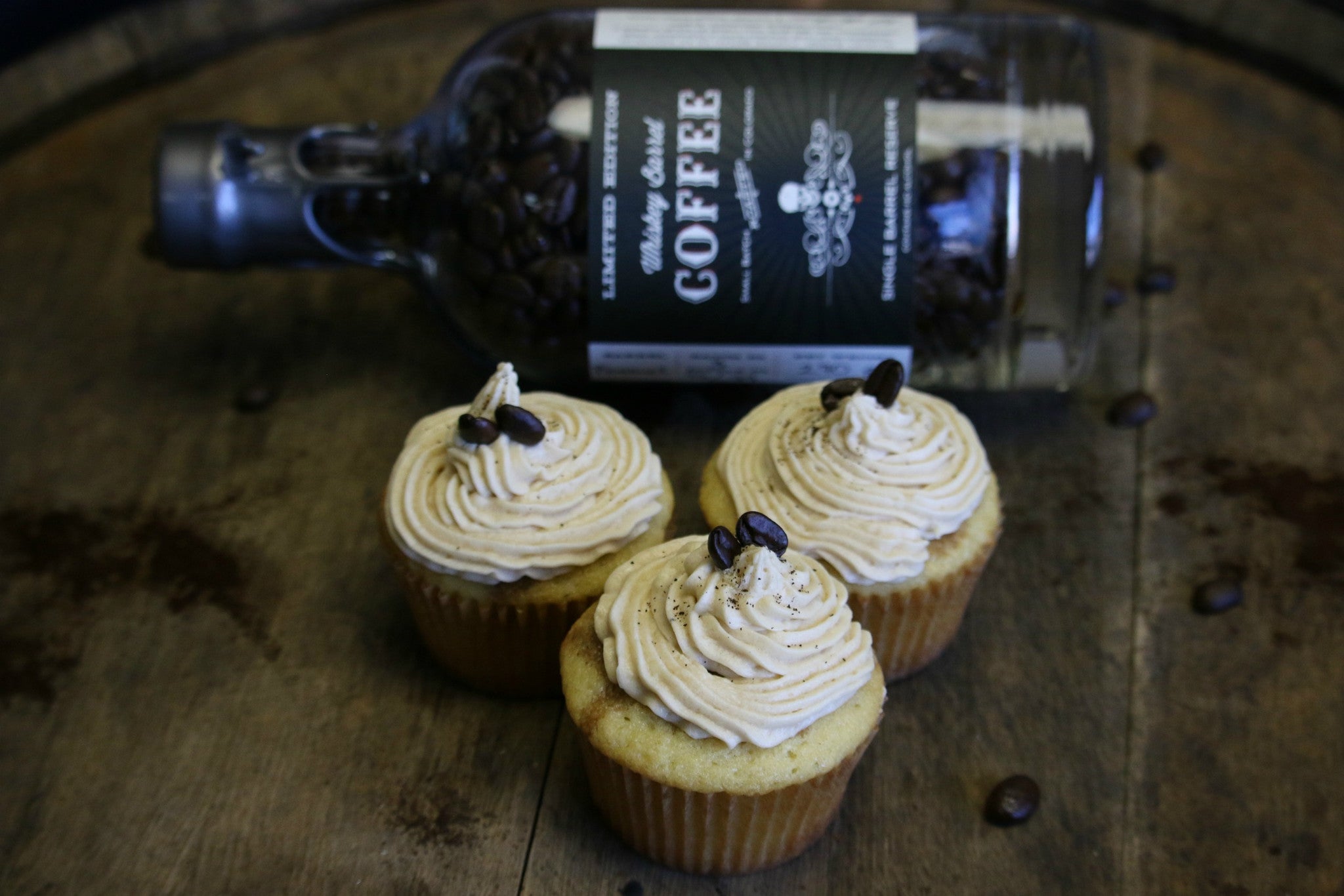 Whiskey Barrel Coffee Cupcakes
While we love the classic coffee and chocolate baking combination, we decided to try something a little bit lighter this time around. These fluffy vanilla cupcakes, drizzled with fresh espresso and topped with Whiskey Barrel Coffee buttercream frosting turned out to be the perfect alternative! Give them a try and be sure to post a photo of your delicious creation, using #whiskeybarrelcoffee so we can find it.
*Recipe adapted from "Amy Sedaris's Vanilla Cupcakes" by Epicurious*
Makes 12 cupcakes, hand mixer or stand mixer recommended.
Ingredients
For Cakes:
3/4 stick of butter (approx. 6 oz)

3/4 cup of sugar
1 egg
1 teaspoon pure vanilla extract
1 1/4 teaspoons baking powder
1/8 teaspoon salt
1 1/4 cups all-purpose flour
3/4 cup milk
Approximately 1/2 cup of Whiskey Barrel Coffee, strongly brewed
For Buttercream Frosting:
1/2 cup unsalted butter, softened

2 cups powdered sugar, sifted
3 tablespoons Whiskey Barrel Coffee espresso or strongly brewed coffee
Directions
Cupcakes:
 Preheat oven to 375 degrees

Put butter in medium sized bowl and mix until smooth. 

Add sugar and mix well. Add egg and mix well.
 Add remaining ingredients (flour, vanilla, baking powder, salt, and milk) and mix well.
Place cupcake liners into muffin tin and fill each cup until it is about 3/4 full. This will allow room for rising without resulting in a very rounded top.
 Bake for 20 minutes. You know the cake is done when you can press lightly on the top with your finger and it bounces back. 
Using a fork or a toothpick, gently poke holes across the top of each cupcake. Drizzle Whiskey Barrel Coffee over the holes to infuse the cake with a bit of unique flavor. Soak to taste but be careful not to drown the cake and make it soggy.
Whiskey Barrel Coffee Buttercream Frosting:
 Place softened butter and sifted powdered sugar is bowl with high sides (this will prevent spray when mixing) and mix slowly until incorporated.

Add Whiskey Barrel Coffee and gently fold into the mixture.
Note:

You can add more Whiskey Barrel Coffee if you like but be aware that it will quickly change the consistency of the frosting. If you run into the problem, you will need to add more butter and sugar in small increments to build it up again.