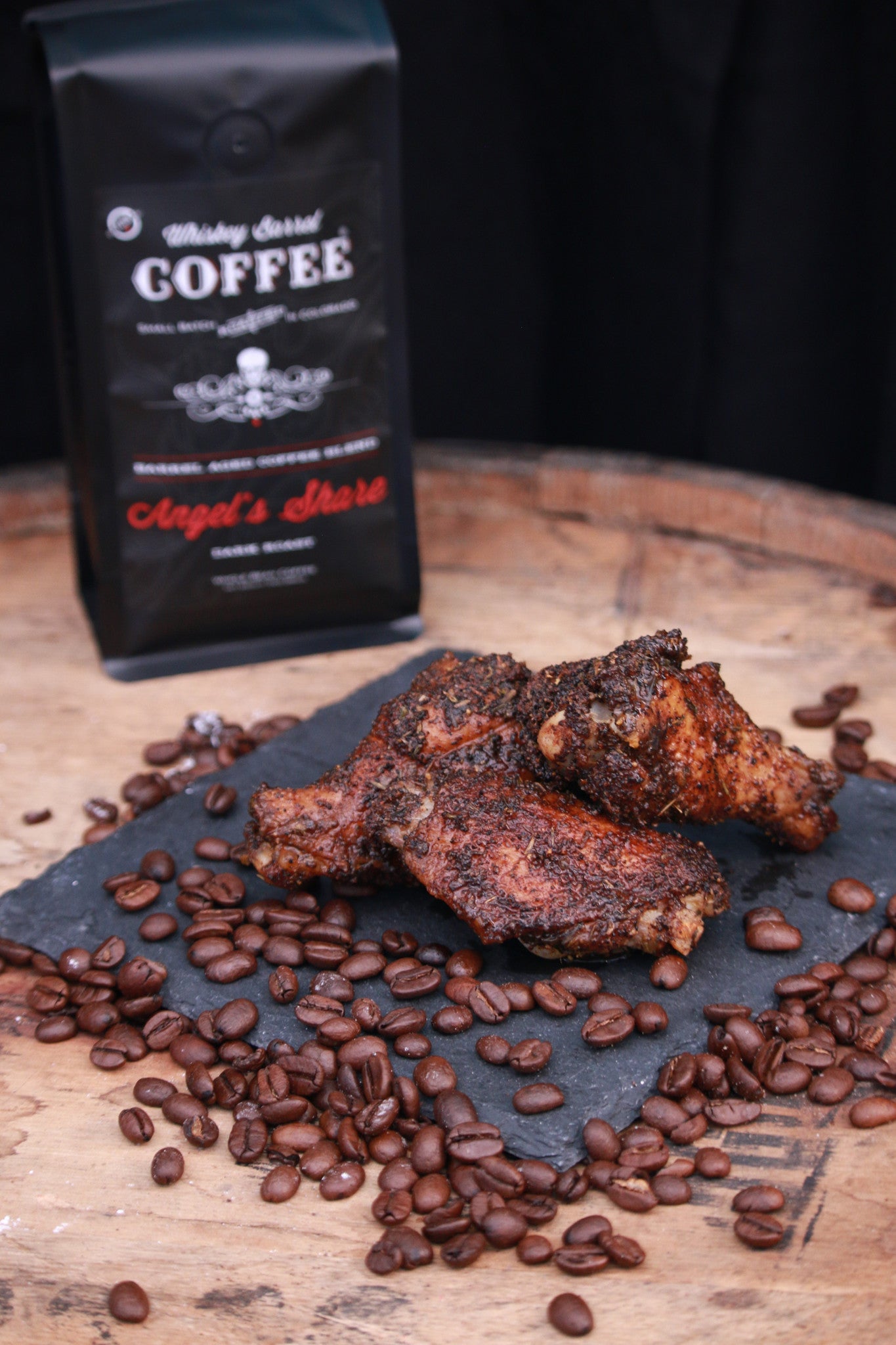 Coffee and Kickoffs: Baked Chicken Wings
When we think of classic game day eats, the first thing that comes to mind is chicken wings. So ,naturally, when we were brainstorming for this tailgating series the first item to make our list was a good wing recipe. This is the first of what we are certain to be many variations on game day chicken wings. Spiced to perfection, this coffee rubbed chicken wing is savory and sweet with a smokey whiskey finish brought on by the addition of our barrel aged coffee. 
CLICK HERE to purchase your bag of Angel's Share & don't forget to use the code 'SBWEEK17' at checkout for 15% off of your purchase! Code valid until 11:59 pm MST Thursday February 2, 2017.
This recipe was adapted from Food Well Said. The best part about any wing recipe is that is can be easily adapted to suit your preferences. Feel free to throw these on the grill instead of baking them or experiment with a spiced coffee glaze to use on crispy fried chicken wings.
___________________________________________________________________
Ingredients
2 lbs chicken wings
1 cup strongly brewed Angel's Share coffee
1 bay leaf
2 1/2 tbsp salt
2 1/2 tbsp finely ground Angel's Share coffee
1 tbsp ground black pepper
2 tsp paprika
1 1/2 tsp garlic powder
2 tsp dried oregano
1/2 tsp cayenne
3 tbsp maple syrup
Instructions
 Place the chicken wings in a large shallow dish and cover with the brewed coffee. Add the bay leaf into the container, cover and marinate in the fridge for at least four hours.
Preheat the oven to 350 degrees. Line a rimmed backing sheet with foil and place a baking rack on top. Measure out the maple syrup into a small bowl and set aside.
Drain the wings and pat dry with a clean paper towel. 
In a large bowl, toss the wings in the spice mixture. Once evenly coated, arrange the wings onto the baking rack.
Cook the wings for 20 minutes.
Remove and brush each wing with maple syrup. This should use roughly half of the maple syrup. Return the wings to the oven and cook for an additional 10-15 minutes.
Remove the wings once again, flip each wing over, and brush with the remaining maple syrup.
Return the wings to the oven and broil on low for 5-10 minutes.
___________________________________________________________________
#WhiskeyBarrelCoffee #WBCRecipe #BarrelAgedCoffee