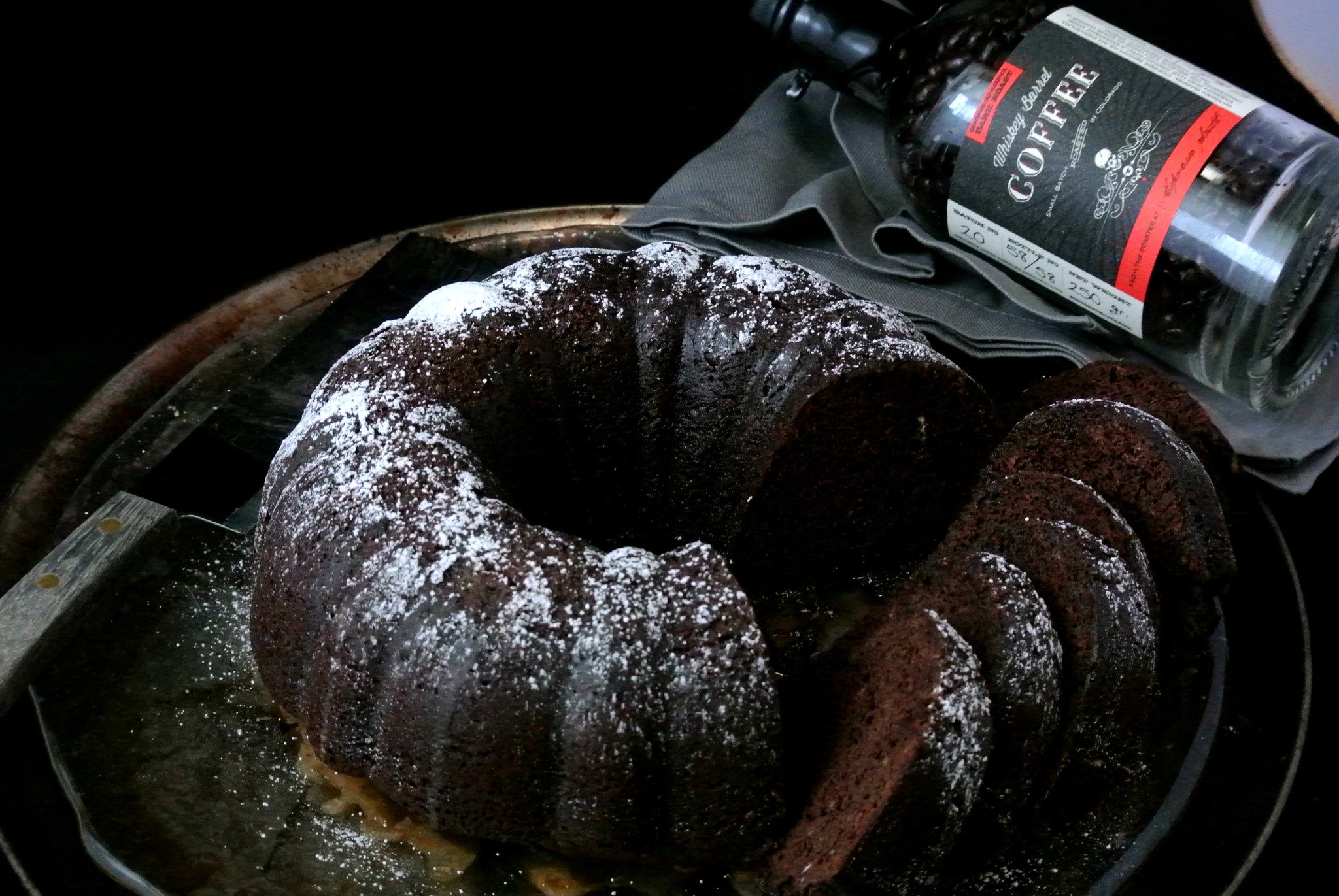 Whiskey Barrel Coffee Chocolate Bundt Cake
In addition to redefining the coffee experience, Whiskey Barrel Coffee is also a versatile ingredient that can be used to make holiday recipes even more special. We frequently use Whiskey Barrel Coffee to change up anything from a steak rub to a whipped cream, but this holiday season we are focusing on dessert.  We have turned a standard chocolate bundt cake into a special dessert people won't be able to stop talking about.
Dark Roast Whiskey Barrel Coffee is incorporated in both parts of the recipe in order to infuse the cake with strong hints of its whiskey and coffee flavors. We hope you enjoy this first recipe as much as we do! This uniquely flavored chocolate bundt cake is perfect for any holiday gathering and has proven to be a real crowd-pleaser.
* This bundt cake recipe was adapted from a recipe that can be found on Epicurious.com | The glaze is entirely our own. 
------------------------------------------------------------------------------------------------------------------------------
WHISKEY BARREL COFFEE CHOCOLATE BUNDT CAKE with Whiskey Barrel Coffee Glaze
Ingredients:
For Cake
2 cups strongly brewed Dark Roast Whiskey Barrel Coffee

1 cup salted butter

2 cups sugar

1 cup unsweetened cocoa powder + extra for dusting bundt pan

2 large eggs

2 cups all-purpose flour

1 1/4 teaspoons baking soda

1/2 teaspoon salt

1 teaspoon vanilla
For Glaze
2/3 cup powdered sugar

2 tablespoons strongly brewed dark roast Whiskey Barrel Coffee

1 tablespoon milk (We used 2%- you can use whatever you prefer)
Instructions:
For Cake
1. Preheat oven to 325 degrees. 
2. Butter bundt pan and dust cocoa powder across the entire pan. Knock out excess.
3.Heat coffee, butter and cocoa powder in a medium saucepan, whisking regularly until butter is melted. Remove from heat, add sugar, whisk until fully dissolved (check that there isn't sugar stuck to the bottom of the saucepan). Transfer to a large mixing bowl.
4. Mix flour, baking soda, and salt in a separate bowl.
5. Whisk together eggs and vanilla in a small bowl. Add this mixture to the chocolate mixture. Combine well.
6. Add flour mixture into the chocolate mixture. Whisk well, making sure that there are no pockets of flour or baking soda. Batter will be rather thin and bubbly.
7. Pour batter into pre-prepared bundt pan. Bake for 45-50 minutes. To test if it is fully baked, insert toothpick. If the toothpick comes out clean, your cake is done.
8. Let cake cool, inside bundt pan, for at least twenty minutes. Run a knife down the sides of the cake to ensure that it does not stick. Invert cake onto cooling rack. 
For Glaze
1. In a small bowl, whisk together powdered sugar, Whiskey Barrel Coffee, and milk.
2. Drizzle the glaze over the entire cake. The glaze will gradually soak into the cake. We recommend layering on the glaze for a stronger, more even flavor. 
3. Optional: Once the cake has cooled and the glaze has fully soaked in, lightly dust the top with powdered sugar for a clean sophisticated look.
NOTE: You can adjust the amount of each ingredient to suit your preferences. If you would like a thicker glaze, you can use more sugar or substitute the milk for cream. 
 ------------------------------------------------------------------------------------------------------------------------------
If you make this cake or use Whiskey Barrel Coffee in another recipe, we would love to see it.  Post a picture on instagram using #WBCBaking #whiskeybarrelcoffee or #WBCCooking and we will let you know what we think!